TheGentsMarket - Roadmap with Updates
Review all the steps and events we took from the beginning of the creation of the website. Check out the roadmap for the website below.
The Start - We've Been Scammed
I purchased a product from the TheGentsMarket and it stopped working after a few days. I reached out to Omar on the Discord channel for help and never helped me. I'm still waiting for help to this day. He says to wait patiently. I guess I'll be dead before I get a replacement.
Website Creation
We started doing more research and saw other people having similar issues from 2020 and 2021. I saw he got banned from many websites such as Nulled. I figured out that he spams the Shoppy.gg store with fake reviews. I decided to create the TheGentsMarket website to help inform people and combat the scams he was committing to people. Omar got so scared that he had to create a post on Discord to prevent people from learning the truth.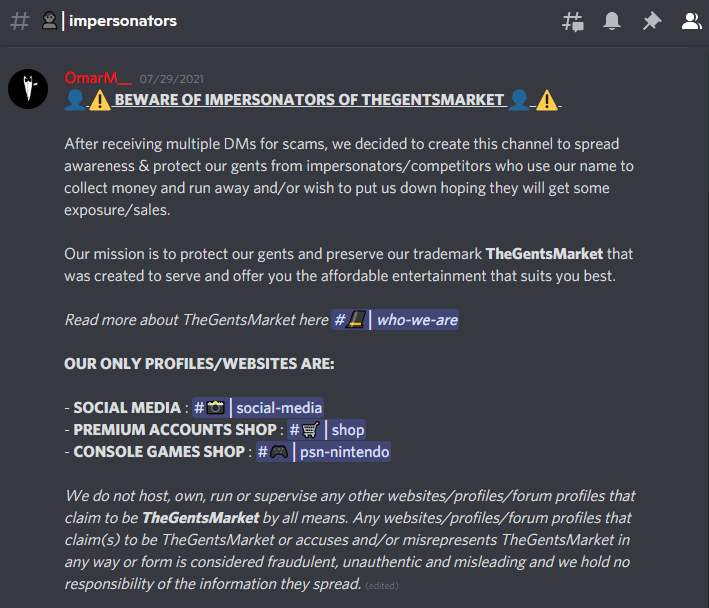 Review - Page Created
We created TheGentsMarket Review page to help explain and show how he was creating fake reviews on his store. I'm taking daily screenshots to show how he constantly floods the page with fake positive reviews to hide the real ones complaining about not being helped.
Message to Omar - Page Created
Created a page to Omar to show my intentions behind why this website was created. Of course he's not going to help, the only way is to warn people before they purchase by flooding google with the truth and spamming users on Discord.
Roadmap - Page Created
We decided to develop a roadmap page to show people the progress on where we have been so far, so you can stay up to date. Also, to scare Omar about the progress we're having on destroying he's scam.
Adding Additional Information
We're going to continue to update the website with the ways to spot why this is a scam and how we can stop it.
Video
We're working on creating a video we can upload and grow more awareness.
Solutions Page
We're working on creating a page to show how you can help participate in solving the problem if you've been scammed before by Omar.